This November, Vote to Re-Elect Governor Gretchen Whitmer
These are scary times. Bigotry, extremism, and the Big Lie have taken root in the Michigan Republican Party, and we've witnessed an onslaught of attacks on our voting rights, abortion access, and public schools.
But luckily, we have a progressive champion in the governor's office — and a chance to step up for our communities and secure four more years of progress under Gov. Gretchen Whitmer.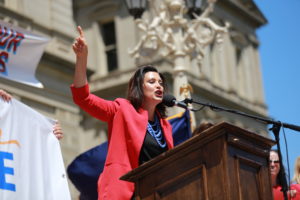 Since being elected in 2018, Gov. Whitmer has been an advocate for our communities and a force for positive change in Michigan. Gov. Whitmer has repeatedly gone to bat for the priorities that matter most to Michiganders, including clean water, safe roads and bridges, quality public schools, and health care access for all.
Now, she's continuing that work in our state's highest office and paving the way for women across the state. We need her leadership now more than ever—and your community is counting on you to show up on November 8 and vote for Gov. Gretchen Whitmer.
A champion for education
During her time in the governor's office, Gov. Whitmer has signed an historic education budget that took important steps toward equity for students and educators. She's consistently fought alongside educators and their unions to ensure students and staff in communities across the state have the support they need.
Defending our reproductive freedom
Roe v. Wade has been overturned, but Gov. Whitmer has been fighting for abortion rights since she was a state legislator. Now, she's stepped up big time for our reproductive freedom and asked the Michigan Supreme Court to hear a case to overturn our state's pre-Roe abortion ban. She also supports the Reproductive Health Act, a bill currently stalled in the Republican-controlled legislature that would guarantee Michiganders' rights are protected.
Building strong, sustainable communities
Gov. Whitmer been a leader in the fight to bring broadband to rural communities, combat climate change, and distribute federal relief dollars to struggling communities. And, of course, she has worked tirelessly to fix the damn roads and upgrade our water infrastructure, so that communities across the state can thrive.